Look Your Very Best – Without Surgery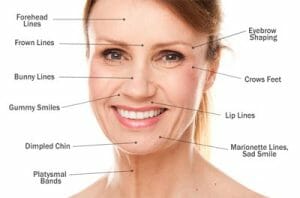 When you look in the mirror, what do you wish you could change about your face?
Frown lines
Smile lines
Deep lines around your mouth
Thin lips
It's natural to want to look your best. You feel young; you want to look it, too! And you can. Without surgery. Without a complete face lift.
Dr. Sneed has completed thorough training on the use of Botox and fillers for TMJ disorders and the treatment of Bruxism, as well as for esthetic purposes and smile design. She is currently the FIRST and ONLY dentist in Tennessee certified by the American Academy of Facial Esthetics to treat the problems above and more with Botox and other facial fillers:
Botox injections help smooth wrinkles on the forehead and around the eyes.
Botox can help TMJ and facial pain.

In addition to Botox, Dr. Sneed also provides Xeomin and Dysport fillers to best suit the needs of her patients.

Radiesse is a cream-like substance that fills out thinning lips, or adds fullness and contour. It's been used safely for more than 25 years and lasts for years!
Juverderm is what's known as a hyaluronic acid filler, a substance that is a natural part of the body. It can be used to fill in wrinkles, nasolabial folds and to plump up thin lips. It lasts about 6 months.
Restylane is also a hyaluronic compound that is ideal for filling in lips, facial lines, and the folds and furrows that are part of aging. It also lasts about 6 months.
Call us and ask about our Collierville Botox and facial esthetic services. Better yet, schedule a consultation! In some cases, you can have your treatment done right away if you choose.
A few changes here and there and people will wonder "What's she doing? She looks amazing!" (Don't feel left out guys! We treat men too!)
Available in Collierville —
Coming soon to East Memphis!